There is one other good thing about living in California ....


Yes. Fresh anytime. My favorite fruit of
all time
, no doubt.
Now, what to do with a boxfull of strawberries?
I managed to get a hold of some sweet recipes. I made my own little twists in the end (like always), and came up with even better treats. I decided to make these delicious strawberry muffins. The original recipe was pretty plain with the taste, so I decided to add a notch of cinnamon, vanilla, and brown sugar. Which always does some good! And since I still have a bunch of strawberries in the fridge, I decided to try and go with a pie. I came across this recipe that was
TO DIE FOR
. I'll save that for the end. ;)
Strawberry

Muffins
INGREDIENTS
canola oil (or corn oil)
1/2 cup of milk
1 3/4 cups of AP flour
1/2 teaspoon vanilla extract
1 egg
1/2 teaspoon of salt
1/2 teaspoon of cinnamon
2 teaspoons baking powder
1/2 cup white sugar
1 cup chopped strawberries
1/4 cup brown sugar
- Preheat oven to 375 F, grease muffin tins.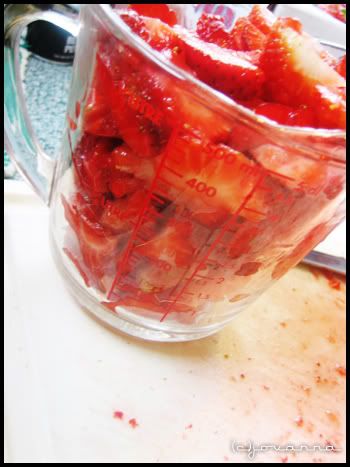 - Combine oil, milk, and egg. Beat slightly. In another bowl, mix flour, salt, baking powder, sugars, vanilla, cinnamon, and brown sugar. Toss strawberries and stir. DO NOT USE BLENDER. You do not want to ruin the perfect little chopped strawberries. :)
- Pour in milk mixture and stir together. Fill the tins or cups half way. Bake for about 20-25 mins, or until tops bounce back from touch.
Viola!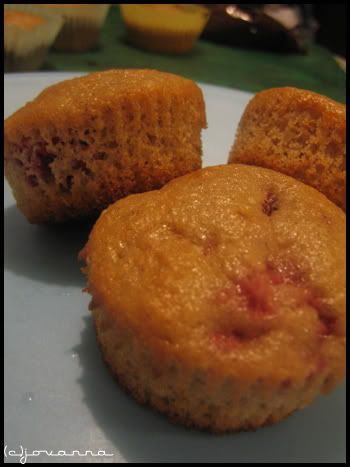 Then garnish them anyway you want to.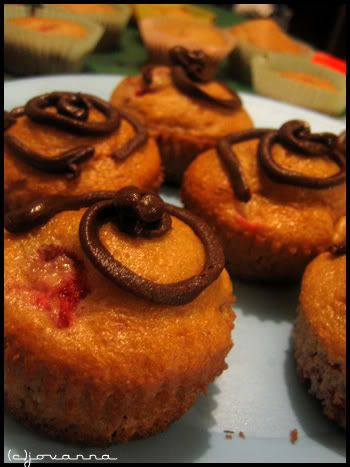 And now ... last, but not least ....
Frozen Strawberry Margarita Pie


Let me tell you ... it was DELICIOUS. My two favorite things in the world, strawberries and margaritas. What is not to love?

INGREDIENTS

Crust

2 cups of honey graham cracker crumbs
2 tablespoons of sugar
5 tablespoons of butter
Filling

1 lb of strawberries, halved (3 1/2 cups)
1 tablespoon finely grated lime zest
4 tablespoons of tequila
3 tablespoons of strawberry (or orange) flavored liqueur
1/4 cup fresh lime juice
1 (14 oz.) can of sweetened condensed milk
1 1/2 cup chilled heavy cream
For crust -
- Stir together cracker crumbs, sugar, and butter in bowl. Press mixture evenly in a 9 1/2 pie pan. Bake for 10 mins. Let cool on rack for 30 mins.
Filling -
- puree strawberries, lime zest, lime juice, milk, tequila, and liqueur in blender. Transfer to a large bowl.
- Beat cream at medium speed. Add cream to milk mixture in 4 batches and stir. Pour mixture to crust. Freeze for about 4 hrs. Let it cool for about 40 mins before serving, then re-freeze with plastic covering to put away for at least 3 days.
The original recipe asked for 2 tablespoons of tequila. But ... I wasn't feeling the taste, so I added more. You know me. ;)